Monthly Payment, Start Saving Today!
Monthly Payment, Start Saving Today!
Average Cost Chevrolet Traverse Car Insurance Coverage By Age And Model
Last Updated on November 19, 2023 by
admin
The average cost for insuring a Chevrolet Traverse may depend on the driver's age, gender, credit score, residential location, past driving record and marital status. These are all factors that play a crucial role in determining overall affordability of auto insurance rates provided for Chevy Traverse insurance. However, while exploring your options, it is vital that you also consider level of coverage and limits. It is always desirable to compare policies with similar coverage features and limits to get a fair idea regarding how much you may have to pay for getting your Chevrolet Traverse insured to get complete protection.
Chevy traverse auto insurance rates by model year and age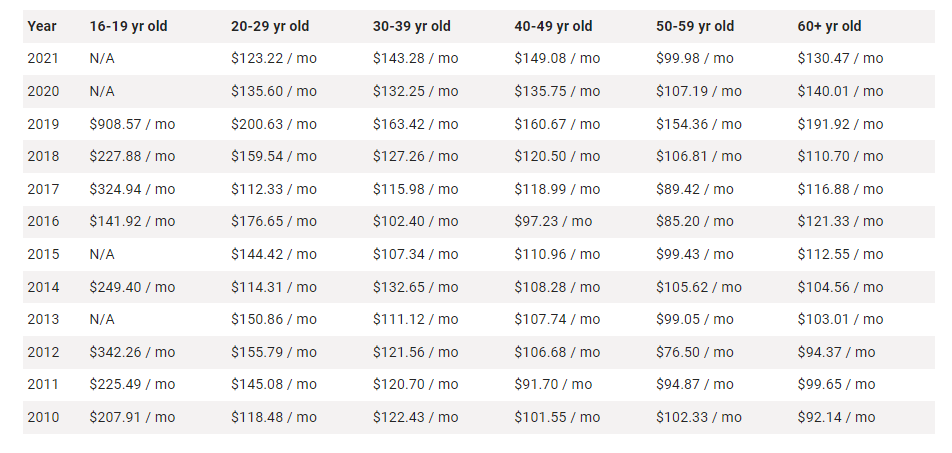 What Factors Impact The Overall Costs Of Chevrolet Traverse Car Insurance?
The costs of insurance Chevrolet Traverse trim and model could depend on the following factors.
Driver's age – – It influences traverse car insurance rates in a big way. Accordingly, younger drivers can expect to pay more for insurance as compared to senior and more experienced drivers. And for teen drivers, the premium rates could be the highest as they carry greater coverage risks for insurers.
Traverse model – – Insurance rates provided for the newest Traverse models will be the highest and older versions will cost substantially less to insure. The cost of insuring 2020 version of Chevrolet Traverse model is $1,258 per year and that for insuring an old used 2010 model could be $240.
Residential area – The exact geographical location of your residence can impact Traverse insurance rates. This is because some neighbourhoods have much higher crime and theft rates which increase the coverage risks for insurance companies than other areas. For example, Phoenix drivers pay $692 less annually than Los Angeles drivers.
Driving record – Your driving history is another major consideration when it comes to calculating premium rates. If you have a bad driving record then you will be charged substantially more for car insurance than drivers with good driving records. And insurance rates could be the highest for risky drivers.
Safety features – Chevy Traverse vehicles have good safety ratings and so, they are all safer cars. Insurers provide special discount on premium for cars that have safety numerous features and hence, you can expect to save some money. Make sure that you ask about other premium discounts as well.
Crash test ratings – Test ratings can also impact the cost of Traverse insurance. Most of the Chevy Traverse vehicles enjoy very good crash test ratings and so, you can get an additional discount on premium thereby saving you some extra dollars during your effort.
Premium discounts – Insurers may provide discounts to drivers who have good driving records, credit scores and maintained good grades in academics (if you are a college student). If you manage to get a discounted traverse car insurance package, you can save few hundred precious dollars on your yearly premium.
Insurance loss probability – For Chevrolet Traverse cars, the insurance loss probability will vary depending on the type of coverage you have chosen. If the percentage for each coverage feature is low then the insurance loss rate will be lower but if it is high then the rates will be higher.
5 Different Ways To Save Money On Chevrolet Traverse Car Insurance Covers
It is possible to save money on Chevrolet Traverse auto insurance coverage. Here are 5 different ways which might help you to qualify for the lowest Traverse car insurance rates.
Tell your chosen insurer how you will be using your car, whether you alone will be driving it or your family member(s) may also.
If you will drive the car for less often then you must inform your insurer. You may be eligible to get a premium discount.
Inquire if you are eligible to obtain any other types of discounts on premium. Insurers provide varied kinds of premium discounts to qualified drivers.
In case, your existing traverse car insurance policy is approaching renewal then it is worthwhile to start comparing other options a month in advance.
To reduce chances of accident or theft, make sure that you are parking your car in a proper place when you not in use.
What Type Of Chevy Traverse Insurance Coverage Do You Need For Your Car?
It is important that you get adequate insurance coverage levels for your Chevy traverse car so that your finances remain protected in the event of an accident or a collision. However, if budget is an issue then you can buy minimum liability car coverage as is prescribed by your state.
Bodily injury liability – Coverage will pay costs for treatment of bodily injuries that are caused to other persons (victims) as a result of an accident involving the insured car. You can buy basic liability coverage as mandated by your state and if budget permits, you can purchase extra coverage.
Property damage liability – Coverage will pay costs for repair of physical damages caused to other person's property because of an accident involving the insured car. Talk to an independent agent to know how much amount of coverage will be ideal for your unique situation.
Personal injury protection/Medical payments – Coverage will pay costs for treatment of bodily injuries caused to owner-driver and fellow passengers as a result of an accident involving the insured car. The expenses reimbursed under the PIP cover will include money that is spent on ambulance charges, hospital costs, prescription drugs, doctor visits and rehabilitation cost.
Uninsured/Underinsured motorist insurance – Coverage will pay costs for treatment of bodily injuries caused to an uninsured or underinsured motorist who happens to meet with an accident with the insured car. It will also cover costs for repair of uninsured/underinsured driver's car if it gets damaged due to the accident.
The above mentioned coverage features are mandatory for drivers to carry as per law. The coverage limits might be insufficient and can jeopardise insured car4 driver's financial situation post an accident. So, it is always desirable to consider buying some optional coverage features for securing complete financial protection as under:
Comprehensive coverage – This feature will pay costs for repair or replacement of parts of insured car or get new car in the event of an accident. Even damages caused to insured car as a result of theft, fire, vandalism, hailstorm, etc. will be covered by comprehensive car coverage feature.
Collision coverage – The feature will cover costs for repairs of damages caused to the insured car because of falling objects like trees, animal hit, etc. or colliding with some other vehicle. It will ensure that the original look of the traverse vehicle is maintained and its market worth retained.
Glass coverage – Cost of replacing Chevrolet Traverse car's windshield can be around $800. Glass coverage feature will reimburse this expense if you buy a zero deductible glass insurance coverage feature. It will not be the case if you have $1,000 deductible on your policy and only incur out-of-pocket expenses.
Gap insurance coverage – Buying gap insurance makes sense when you are getting a new Chevy traverse car. The coverage will pay differential costs or gap expenses incurred because of amount that you owe on loan or lease. It will help you to avoid going upside down on your loan payments.
How Much Exactly Does A Chevrolet Traverse Vehicle Insurance Policy Cost?
On an average, traverse vehicle insurance costs about $1552 yearly or $128 every month. Depending on the type and model of 2021 traverse car that is to be insured it can cost anywhere $ 120 to $ 140 to insure each month. Besides, there can be a great variability in Chevy traverse car insurance premium rates from state to state. In states like Visconsin or Virginia, the premium could be as low as $ 225 yearly for a liability only coverage but in New York the rates could be as high as $14,212 for a full traverse insurance coverage policy.
Nevertheless, extensive shopping can enable you to save hundreds of dollars on Chevrolet traverse vehicle insurance premiums. It is subject to the conditions that insurance companies warrant you to meet. aliasinsurance.com can enable you to get the adequate auto insurance coverage for your traverse model at the lowest price. Take advantage of our cost-free specialist services online for securing a solution that easily meets your specific driving needs and budget. Act to save precious dollars while securing complete financial protection for your Chevrolet Traverse car. Our team of qualified and experienced experts will be glad to help you. Apply now!
Is A Chevy Traverse Expensive To Insure?
Yes, the Chevy Traverse can be very expensive to insure. It is a large SUV and its features make it more desirable for many consumers.
How Much Does It Cost To Insure A Traverse?
The cost of insurance on a Chevy Traverse starts from $1,895 per year with a deductible starting from $250. The monthly payment can vary by applicant and their location.
Andy Walker is a freelance content writer who specializes in writing for insurance and finance related niches. He has years of experience in this field and has written extensively on a variety of topics. Andy's work is always highly polished and well-researched, ensuring that his clients are always happy with the results.