Monthly Payment, Start Saving Today!
Monthly Payment, Start Saving Today!
What Is The Average Cost To Insure A Toyota Yaris?
Last Updated on November 19, 2023 by
admin
When you have decided to get a Toyota, you will have many options in front of you. Camry, Tacoma, and Yaris are the top three models of Toyota. Now, you have decided to get Toyota Yaris but do you know how much the insurance will cost you?
Various factors such as your age, location, driving history, education, and marital status impact the price you will pay to insure your vehicle. Age is one of the most critical data for insurance companies to decide your insurance rates.
Before buying insurance for your car, you must research and compare all the quotes you have from various insurance companies. Below is an in-depth guide on how you can get cheap insurance for Toyota Yarish.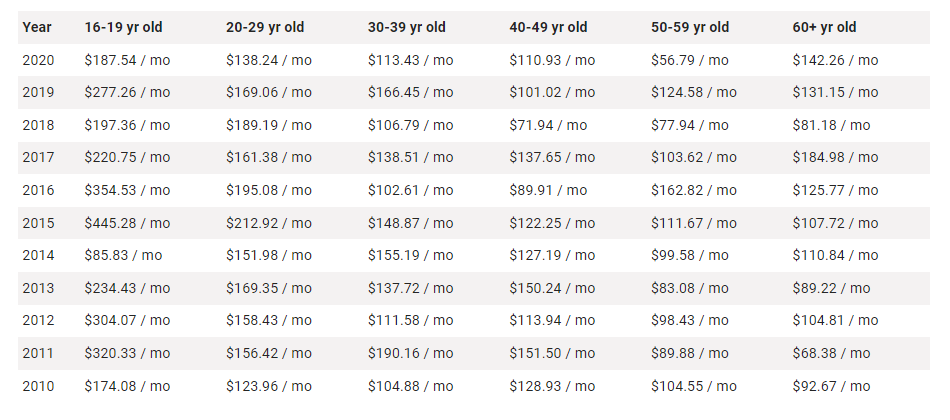 Why The Insurance Cost Of Yaris Is Different Than Other Toyota?
When you look at the other Toyota models, you will notice that Yaris is different from other cars.
The prime reasons for these differences are often due to:
Different safety features consist of different numbers of airbags, adaptive cruise control, lane departure warning, anti-lock brakes, electronic stability control, traction control, etc.
Difference national highway traffic safety administration or insurance institute for highway safety ratings and crash test ratings.
Differences in the cost for replacement or repair
Differences in vehicle size, for example, a large SUV, are likely to cause more property damage as compared to a smart car.
Differences in anti-theft systems such as electronic keys, anti-theft systems.
Factors Affecting The Cost Of Insurance For Your Toyota Yaris L
Toyota Camry is a car that is cheap and easy to insure as you need not put too much effort into finding its insurance plans. First of all, consider what you need extra from the standard coverage plus how you will be using your car:
Annual mileage – Driving more mileage will eventually increase your chances of getting in a collision or accident. Hence, you will be likely to file an insurance claim. So, you will be categorized into high-risk drivers.

Driving more than the average 10,000 to 15,000 miles per year may make you pay somewhat higher insurance rates.
Your driving record: – Keep your eyes on the road. In simple words, keep our driving record sound. When you have a stained driving record, then you will need to pay more for insurance premiums. You will be categorized into the high-risk drivers, and that will shoot up your insurance rates.

If you can keep your driving record clean, then you will be able to get some fantastic discounts on your Toyota Yaris insurance 17, 18 & 19 years old.
The value of your vehicle: – Purchasing a high-class SUV or Sedan may sound impressive but insuring these luxurious cars is as costly as it can get. The reason is simple as finding some of the parts of these cars is difficult. Additionally, repairing costs can be high too.

So, if you have a luxurious car, then it will be costly to insure it. Get your hands on an older version of Yaris as you may need to pay higher auto insurance premiums for a newer Yaris L.
What Impacts The Cost Of Toyota Yaris Insurance?
Upon research in the market, you may have noticed that some factors can affect the insurance for your Toyota Yaris. Age, location, driving record, and model – everything will play its role to determine the premium you will pay to insure the Toyota Yaris.
Age of the Vehicle – If you own an older model of Yaris, then you will some money on car insurance as they generally cost less to insure. For example, if you own a 2018 Toyota Yaris, the insurance will cost around $1,290, while if you own a 2010 Toyota Yaris, then the insurance cost will be approximately $1,094.
Driver Age – This is the most critical factor that will affect the rates of your Toyota Yaris insurance. If you are in your 20s, then be prepared to pay a considerable amount for insurance due to a lack of experience behind the wheel. For example, a driver in his 30s may pay $57 more each year for Toyota Yaris car insurance than a driver in his 40s.
Driver Location – Your location will depend on the rates of your insurance cost for Yaris. If you live in Los Angeles, you may have to pay $185 a year more than drivers who live in Houston.
Your Driving Record – The driving record can have a huge impact on the cost of your Toyota Yaris auto insurance. If you are in your teenage or in your 20s then you will see your insurance rates go up high in their Toyota Yaris auto insurance rates with violations on their driving record.
Tips To Save On Toyota Yaris Insurance
There are several ways you can save even more on your Toyota Yaris car insurance rates. Take a look at the following five tips:
Tell Your Insurer about who will be driving the car
Keep tabs on your teen driver to keep them out of trouble
No drink and drive
Improve Your Credit Score
Ask for a New Toyota Yaris car insurance rates as per your improved credit score
Toyota Yaris Insurance Loss Probability
Insurance loss probability on Toyota Yaris depends on each type of coverage. Lower the percentage, less the amount you have to pay for premium and vice versa.
Is A Toyota Yaris Expensive To Insure?
No, Toyota Yaris is not as expensive to insure. The cost of a car insurance for Toyota Yaris is about average.
How Much Does It Cost To Insure A Toyota Yaris?
For a Toyota Yaris, the average annual cost of car insurance is $914.
Andy Walker is a freelance content writer who specializes in writing for insurance and finance related niches. He has years of experience in this field and has written extensively on a variety of topics. Andy's work is always highly polished and well-researched, ensuring that his clients are always happy with the results.