Monthly Payment, Start Saving Today!
Monthly Payment, Start Saving Today!
What Is Average Cost Of Tacoma Car Insurance ?
Last Updated on November 19, 2023 by
admin
After considering lots and lots of cars, finally, you have chosen to go with Toyota Tacoma. That is a good choice, but you will need to gain adequate knowledge about Toyota Tacoma insurance costs.
Having prior knowledge can help you find the best Tacoma insurance to fit your budget and meet all the requirements you are looking for. The average insurance cost for Toyota Tacoma can cost you around $1,338 a year or $112 each month. If you want to buy a liability-only policy, it will cost about $536 a year or $45 each month.
Teenage drivers are the costliest to insure as they may need to pay around $4,890 a year or $408 each month. If you have a good driving record, you can save up to $552 a year by getting policy discounts.
Toyota Tacoma insurance costs around $181 less per year than the average vehicle, and this can be one of the prime factors for you to buy this type of truck.
However, before you zero down on the car, research well and determine how much you can expect to pay to purchase auto insurance for your new or used Tacoma.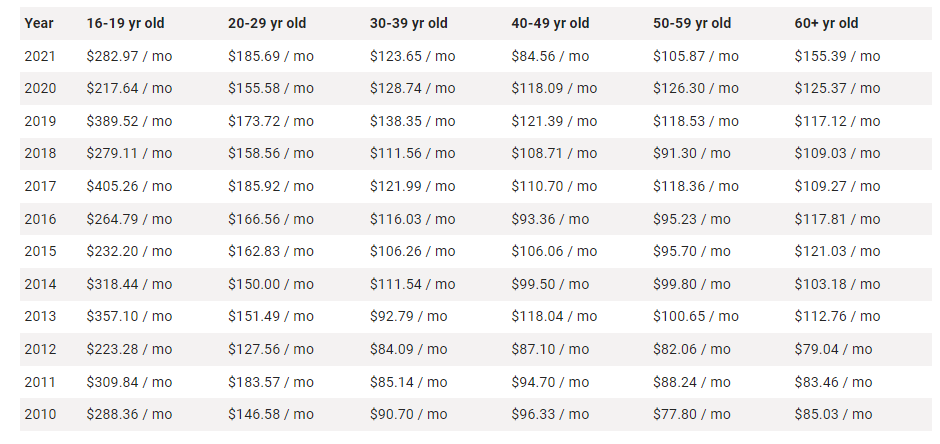 What Are The Available Car Insurance Discounts In Tacoma
The average 2021 Toyota Tacoma insurance cost is around $626 per year for minimum coverage. However, you can find reviews and discounts to be helpful while getting insurance for your Toyota Tacoma. There are many discounts available for you such as:
Bundling – Bundle your policies with the same carrier as it is one of the intelligent ways to receive potential additional savings on your policy. Buying multiple policies from one agent may make you eligible for this discount.
Military discount – – If you have served the country, you can also get some added discounts. Most of the policy carriers – both local and national – offer this type of discount to military veterans.
Paid-in-full – Choose to pay your premium all at once as it will make you eligible for some potential discounts. Go for full payment instead of the monthly payment option, and carriers might provide upfront savings on your insurance premium.
Safety equipment – Choose a vehicle equipped with various safety features such as airbags or anti-lock brakes. If you follow the rules and wear your seatbelt regularly, you may be rewarded with discounts on premiums for your traffic awareness.
Discounts are an easy way to save some money on Tacoma insurance costs, but you can use many other ways to get cheap Toyota Tacoma car insurance.
Increasing your deductible for comprehensive and collision coverage can also help you lessen the premium amount since you might have to pay more out of your pocket.
Shopping around and comparing multiple Toyota Tacoma insurance rates can also help you to save money on your insurance.
How Is The Cost Of Toyota Tacoma Insurance Determined?
You can also review the Toyota Tacoma car insurance loss probability rates for collision, property damage, comprehensive, PIP, MedPay, and bodily injury, as it can also help you determine the rates of your insurance plan. Lower the percentage, lesser the insurance cost, and vice versa.
Collision -21%
Property Damage 9%
Comprehensive -30%
Personal Injury -23%
Medical Payment -24%
Bodily Injury -8%
What Are The Factors That Impact Toyota Tacoma Auto Insurance Cost
The age of your Toyota Tacoma will eventually decide what you will pay for its insurance. If you have a new Tacoma model, you will be paying more for insurance than older models. If you own a 2013 model of Tacoma, then the average insurance cost will be around $1,220 per year, which is $118 less than the annual average for a 2020 Tacoma.
Another significant factor that will impact the insurance rate will be your age. The greener you are, the more you pay for car insurance. The primary reason for the high insurance rate is your lack of experience behind the wheel. If you are a driver and age 40 or older, you will pay close to $60 less annually than a 30-year-old driver.
Your location will also affect the insurance rates. If you live in a safe and serene neighborhood, you will be less likely to file for claims. Hence, you will be given less amount as your insurance premium.
Suppose you can keep your driving record stain-free, then you will be able to save a substantial amount of money on your Toyota Tacoma average insurance cost. You will be able to save around $522 annually if you have a clean driving record and no history of insurance claims compared to the rate for a driver who has one or more shares.
Choosing a car that is rich in safety features can also help you save money on insurance rates. Lucky for you, the Toyota Tacoma is one such vehicle that has lots of safety features that can help you lower the cost of your insurance premium.
Airbags, an antilock brake system, daytime running lights, electronic stability control, drum brakes with braking assist, lane departure warning, and traction control are some of the safety features of Toyota Tacoma.
Is A Toyota Tacoma Expensive To Insure?
Yes, Tacoma cars are one of the most expensive types of vehicle to insure. However, we provide great discounts on our premium Tacoma car insurance policy.
How Much Does It Cost To Insure A Toyota Tacoma?
It depends on the make and model of your Tacoma, but the average premium for a Toyota Tacoma is about $1,995 per year.
Why Is Toyota Tacoma Insurance So Expensive?
Toyota Tacoma insurance is so expensive because it is one of the best cars you can buy. It has a lot of standard features and fewer models than other cars.
Andy Walker is a freelance content writer who specializes in writing for insurance and finance related niches. He has years of experience in this field and has written extensively on a variety of topics. Andy's work is always highly polished and well-researched, ensuring that his clients are always happy with the results.