Monthly Payment, Start Saving Today!
Monthly Payment, Start Saving Today!
Determine How Much It Costs For Getting Toyota Corolla Car Insurance Policy
Last Updated on November 19, 2023 by
admin
The average Toyota corolla insurance cost 2021 hovers around $1,384 yearly or $116 for a month. It is needless to say that the Toyota corolla is one of the cheapest sedans to insure as compared to few other car models. However, the insurance rates are likely to vary depending upon the corolla model that you are driving and its year of manufacturing. Besides, the age and gender of driver can also affect insurance rates. But it is possible to save money on premium while getting your Toyota corolla insured by investing some time for shopping.
National auto insurance carriers such as USAA, GEICO, State Farm, Progressive and Nationwide offer coverage for various Toyota corolla car models. Among all of them, USAA is believed to provide the cheapest insurance rates for insuring Toyota corolla. So, if you are planning to insure your Toyota corolla then it could be worthwhile to check out latest trends in policy rates. Aliasinsurance.com may actively help you in finding the best Toyota corolla coverage at the most affordable premium within just few minutes online. Apply now!
Know How Much Exactly Is The Toyota Corolla Insurance Cost By Model Year
As mentioned earlier, the make and model of Toyota corolla car can affect affordability of insurance premium. So, one may conclude that older models will be much cheaper to insure than new models. This is because car values depreciate with passing time and so, comprehensive as well as collision coverage features are not required to be purchased if your Toyota corolla vehicle model is above 5 or 7 years old.
In general, you can expect Toyota corolla auto insurance rates to be on the upswing every year with older versions costing less to insure as compared to newer 2021 versions. But other factors such as age, gender, credit score and past driving record can also significantly impact the premium rates. You can have an idea about insurance rates offered for Toyota corolla cars by model years from the following table.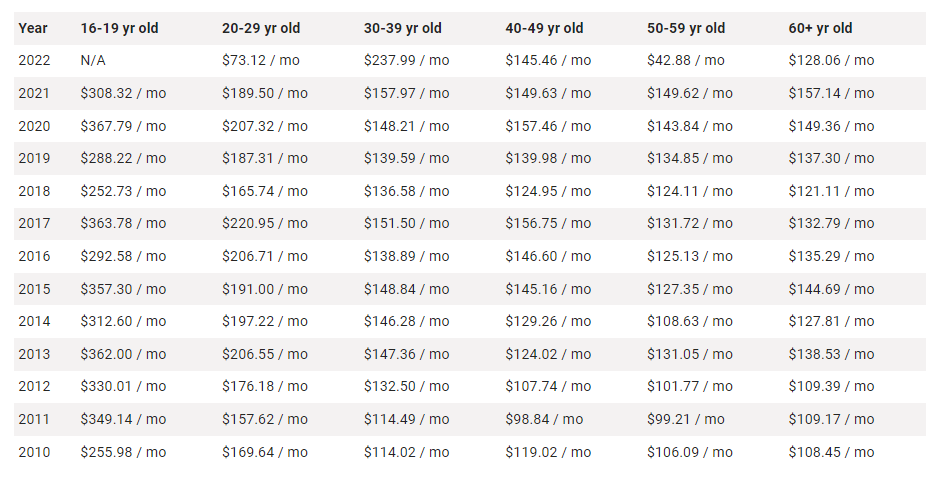 To learn more about the coverage features, limits and pricing, you can talk to one of our competent local experts by fixing an appointment online. Act today, to find the cheapest Toyota Corolla insurance quote online!
7 Factors That Affect Overall Affordability Of Toyota Corolla Insurance Rates
The Toyota Corolla is a compact sedan that known for its safety features and comfort. Nevertheless, as far as insurance rates are concerned, there are a number of factors that go in assessing coverage risks. These may even include aspects like engine performance, safety ratings, repair costs and theft rates. Here is some important information which might be of great help in knowing what you may have to pay for getting your Toyota Corolla insured.
Body type – Typically, Toyota Corolla is designed to ensure driver's safety and comfort so the cost of insurance will be lower than other sedans.
Type of car – Being an entry level sedan, the Toyota Corolla is cheaper to maintain and repair. This helps in reduction of insurance costs.
Theft rates – Toyota Corolla have much higher theft rates than any other category of vehicles due to which cost of insurance can go up.
Repair costs – For Toyota Corolla, the maintenance costs are low and so are the repairing charges. Hence, reduction in insurance premium cost is guaranteed.
Safety ratings – The Toyota Corolla 2018 model is a top safety pick by IIHS and so, you can expect the premium to be lower.
Gas efficiency – Since the Toyota Corolla runs on gasoline, it could be much cheaper to insure than either diesel based or even hybrid vehicles.
Other things – If you opt for additional coverage features, the cost of insurance will increase. But insurers offer discounts on premium to eligible drivers.
Useful Tips For Saving Money While Buying Car Insurance For Toyota Corolla
While comparing toyota corolla car insurance rates and features provided by different insurers, you may also have to account for the below mentioned aspects as they will likely affect premiums.
Quotes comparison – It is important that you compare insurance quotes that offer similar types of coverage features. Premiums can vary depending on the extent of coverage that is sought. If limits are higher then premium could be much higher.
Choosing deductible – When deductible chosen is high, the premium will be lower and vice versa. Determine the right deductible amount to ensure that the auto insurance rates are well within your means and budget. Thus, make the correct decision.
Buy basic car coverage – To save money on premium for your Toyota corolla insurance coverage, you can consider buying the minimum liability limits which are prescribed by your state's driving and insurance law especially when your vehicle is old.
Extra coverage features – You can think of purchasing additional coverage features like Personal Injury Protection (PIP) cover and Medical Payments cover to get total financial protection if your budget permits. While shopping, decide whether you need to buy them.
Add-on coverage features – Some insurance companies may include free coverage for roadside assistance and new car cover in your policy but others may not. If not included, find out how much extra you will have to pay for them.
Limitations to your policy – Also check if there are certain restrictions which apply to your Toyota Corolla insurance. Such a move may enable you to prevent any gaps in your coverage or protect you from denial of future claims.
Check for loyalty discount – Some car manufacturers may extend special offer or loyalty discount, which they provide through partnerships with insurers, to car buyers staying loyal to their brand. See if such concession is available for Toyota corolla vehicle.
Extended warranty for car – Car makers may also offer warranties and extended warranties to buyers. Check what all is covered under extended warranty provided by your car manufacturer so as to avoid spending any unnecessary money on overlapping coverage.
Who Can Get Very Cheap Car Insurance No Deposit Full Coverage? Find Out Now!
To get really cheap car insurance no deposit condition, you must be a low risk driver. If your driving record is bad then you will find it difficult to get low auto insurance rates. But how much you will have to spend on auto insurance will depend on many other factors.
Your age, credit score, type and make of car and driving record will all impact car insurance rates. You can get the lowest rates if your driving record and credit score are good. But the state in which you live may also affect the premium. See what you qualify for.
However, if you are a high risk driver and have bad credit, auto insurance rates will be high. It is vital that you take urgent steps to improve your driving record and credit score. That will help you to get the best insurance rates for your situation. Learn more online!
In a monthly premium payment plan, the first instalment may be larger than the rest. It will depend on the insurer with whom you are working. Besides, the coverage risks might also play an important role. You may have to pay some extra dollars or up to 30% of premium as first instalment.
Our online comparison tool may help you to know the current trends in rates. There is no need to worry about deposit. So, the process of getting car insurance will take less time. You can get instant car coverage once you pay the first instalment. Know more about your options now!
Find The Best Cheap Car Insurance For Corolla With Specialist Advice Online
To secure the best 2021 corolla car insurance policy quote, you may have to do extensive shopping online. If you shop and compare several free quotes provided by top rated national Toyota Corolla auto insurance providers, you could be able to adequate coverage at the right price. But the multiple quotes comparison process is an intriguing and exhaustive task. So, it is desirable to seek help from experts who can guide you during your effort.
Aliasinsurance.com can assist you in getting and comparing the best cheap car insurance toyota corolla quotes online through a process that is absolutely simple, easy and hassle-free. Take advantage of our specialist services for securing a Toyota Corolla insurance solution that fits your specific driving needs and budget. Over the years, hundreds of car owners have benefitted with our expert advice, you too could be one of them. Get started to know how much you can save!
How Much Is Insurance For A Toyota Corolla?
A Toyota Corolla insurance cost ranges from $1539 to $2700 per annum.
Is Corolla Expensive To Insure?
Toyota Corolla insurance is competitively priced in the market. The cost of Toyota Corolla car insurance will not be expensive.
Why Is Toyota Corolla Insurance So High?
The Toyota Corolla insurance cost is higher than average because it gives you more coverage for your car. The cost of the Toyota Corolla insurance varies depending on your location and type of car you are insuring.
Andy Walker is a freelance content writer who specializes in writing for insurance and finance related niches. He has years of experience in this field and has written extensively on a variety of topics. Andy's work is always highly polished and well-researched, ensuring that his clients are always happy with the results.