Monthly Payment, Start Saving Today!
Monthly Payment, Start Saving Today!
Average Toyota Camry Insurance Cost
Last Updated on November 19, 2023 by
admin
When you are in the market for a new car, you will come up against many options. If you think Toyota Camry is the way to go for you, then it is, indeed, a great choice. However, before you buy a Camry, you need to consider the cost of insurance for Toyota.
Before buying a Camry, you will need to get yourself familiar with some important things regarding the model. First of all, it is considered as one of the most popular cars of Toyota. Camry's features and advantages are ideal in terms of security, design, and durability.
When you search for Toyota Camry insurance costs, you will see that the average price to provide coverage for Camry is around $1,430 annually. This rate easily beats the country's many sedans by around $360.
Car insurance varies from driver to driver, and it depends on various factors such as the driver's age, state, insurance company, and mileage. Other factors such as recent confrontation with traffic violations, credit score, and accident history can also impact your car insurance for Toyota Camry.
However, do you feel intimidated by Toyota Camry insurance cost per month?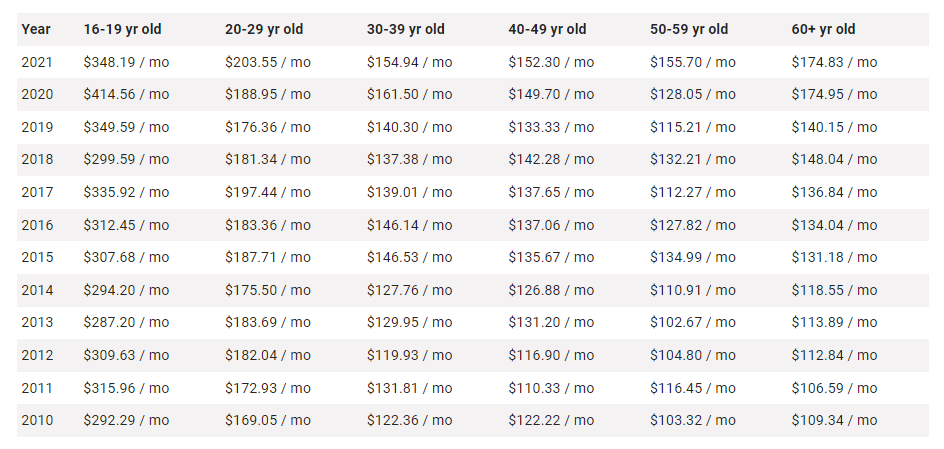 How To Save Money On Toyota Camry Insurance Rates?
When you are behind the wheel, it is essential to get car insurance to help you protect yourself financially. When you get insurance coverage for your car, you need to make sure that you get the best deal to meet your expectations and provide your vehicle with adequate protection.
There are many strategies you can implement to save on car insurance. Once you get car insurance quotes, you can put some or all of the below-mentioned tactics to work.
Pay Full Amount – When you go for installments for premiums, you may end up paying more than initially quoted. So, if your insurer offers you the privilege to pay in advance for either six months or an annual premium, opt for that option as you may get a small discount on that.
Look for Safety Features – – Buying a huge SUV might sound exciting, but if it lacks enough safety features, then you are going to regret buying one. The reason is simple – they will be costly to insure. On the other hand, cars like Carmy come with loads of safety features.

You can find features such as blind spots monitors, radar cruise control, and collision avoidance. These fantastic features will make you eligible for various discounts on your car as compared to expensive cars.

You can also go for a hybrid Camry as the Toyota Camry hybrid car insurance cost is less, and you will get around a 5% discount.
Keep the Driving Record Clean – Keep your eyes on the road. In simple words, make sure you have a clean and stain-free driving record. The more mindful you are, the more you can avoid violations and car accidents – events that can increase your insurance premium rates.

Additionally, you can only control yourself as wrecks, and other hazards are out of your hands. Be on your toes when you are driving as if you are at fault for an accident, then your insurance rate will shoot up significantly.
Maintain Good Credit Score – A driver's credit record is one of the most significant factors that decide premium rates for car insurance. The insurer will look at your credit score to determine how much you will be paying as your car premiums.

The main reason behind considering a credit score is that it will decide if you are a responsible citizen. If you don't miss your premium dates, then you will be rewarded with credit points. Being accountable in your personal life means the chances of you filing claims will be less. Try to make your payments on time and keep the regularity in your financial life to improve your credit score and get the best insurance premium rates.

Now, to get the best deal out of any car insurance, you will need to compare various quotes.
Ways To Compare Car Insurance Of Toyota Camry
Toyota Camry is a car that is cheap and easy to insure as you need not put too much effort into finding its insurance plans. First of all, consider what you need extra from the standard coverage plus how you will be using your car:
Price – Use the same driver and vehicle to get an accurate comparison of prices. Comparing prices will help you determine various companies in the market and which one is best for you. Get multiple quotes from different insurance companies and compare them to see which company fits your budget requirements.
Deductible – A deductible amount will be a considerable factor when you are comparing different prices for car insurance quotes. Make sure you use the same deductible amount for each section, as it will give you a clarified picture of how your premium prices will be determined and what you will have to pay.
Minimum Coverage – Minimal coverage is a mandatory cover you have to buy for your vehicle. The government orders it. When purchasing insurance coverage, make sure your policy covers your state's minimum insurance requirements before you go ahead and buy that policy.
Additional Coverage – You may need some additional coverage as per your situation. Hence, before buying any policy, make sure you consider special situations and scenarios you will be going through. Keep these situations in mind when you are receiving quotes from different insurance companies.
Extras – Learn all about the policy you are buying, including what extras you will get. Knowing the features will help you decide if you need additional coverages or not. Hence, before choosing a provider, see all the features and extras you get from different insurance.
Restrictions – Restrictions will be there, but you will need to see in detail about them. Learn if there are any restrictions related to your policy to avoid any gaps in coverages or about denied claims.
Loyalty Discounts – Insurance companies usually reward customers for their loyalty. When choosing an insurance provider, see if the company you have selected has any special offers or loyalty discounts in store for you.
Warranty period – Find out if your manufacturer 0ffers you any warranty period or not. See what your provider covers or if the company offers you an extended warranty to prevent you from paying for any overlapping coverages.
What Are The Factors That Affect The Cost Of Insurance For Toyota Camry?
Three factors will affect the cost of insurance for your Toyota Camry:-
Annual Mileage – Your chance of being in an accident rises with the mileage. So, if you drive your vehicle more than the average 10,000 to 15,000 miles per year, then it will cause your insurance to go up slightly.
Driving Record – If you have been a culprit of an at-fault accident or moving violation, then be prepared to pay a significant amount for your insurance premiums.
Cost of Your Vehicle – The costlier your car, the more expensive your insurance premium will be. Finding parts of luxurious vehicles are often expensive, and that is why you will have to pay more when you have a posh car. You can take your insurance agent's help to determine the cost of your Toyota Camry insurance rates.
Average Cost Of Toyota Camry Car Insurance Across The Country
You will wonder about how much your Toyota Camry insurance will cost you? Well, that will depend on your age, location, driving history, education, and marital status. These factors will play a significant role in deciding the premium rates you will pay to insure your car.
Here is a list of insurance rates as per various companies (2021):-
Victoria- $652.00 / year
Texas Farm Bureau Group – $1,059.00 / year
Plymouth Rock Assurance – $1,469.00 / year
Hastings Mutual Insurance Co – $1,557.00 / year
Western National – $1,662.00 / year
USAA – $1,783.00 / year
Travelers – $1,872.00 / year
American Family – $1,881.00 / year
Penn National – $2,088.00 / year
California Capital – $2,092.00 / year
How Much Does It Cost To Insure A Toyota Camry?
The Average Toyota Camry Car insurance cost (new or used) is $2,632
Is Camry Expensive To Insure?
Camry cars are not expensive to insure when you compare it to other car brands.
Andy Walker is a freelance content writer who specializes in writing for insurance and finance related niches. He has years of experience in this field and has written extensively on a variety of topics. Andy's work is always highly polished and well-researched, ensuring that his clients are always happy with the results.