Monthly Payment, Start Saving Today!
Monthly Payment, Start Saving Today!
Toyota Avalon Insurance Cost For 2021
Last Updated on November 19, 2023 by
admin
Toyota Avalon is an appealing choice for many car lovers due to its spacious interior, exclusive features, and comfortable ride. Do you want to know what the Toyota Avalon costs to insure? Are you wondering whether Toyota Avalon is more expensive to insure than other vehicles?
Before purchasing a car insurance policy, it is recommended to compare insurance rates from multiple auto insurance companies. It will help you to get an affordable insurance rate with the best coverage.
The average insurance rate of Toyota Avalon is $1,552 per year, which means you will have to pay about $129 every month for the insurance policy with full coverage. When this amount gets divided by the type of coverage, you will have to pay around $674 per year for collision coverage, around $508 for liability and medical payments insurance, and around $370 for comprehensive coverage.
You must know that the insurance rates of Toyota Avalon change with the age of the driver as well as the deductible of the insurance policy. If the average cost of Toyota Avalon insurance is $1,552 per year, then a 60-year-old driver has to pay $1,182 with deductibles of $1,000. On the other hand, a 20-year-old driver has to pay $3,578 per year insurance cost with a deductible of $250.
To understand this concept in an easier way, always keep in mind that purchasing a liability-only insurance policy on an older Toyota Avalon in some states is as low as $217 per year.
If we talk about the 2021 Toyota Avalon, a young male driver of 16 years of age with an accident and traffic violation may be asked to pay around $29,790 per year for buying a full coverage auto insurance policy.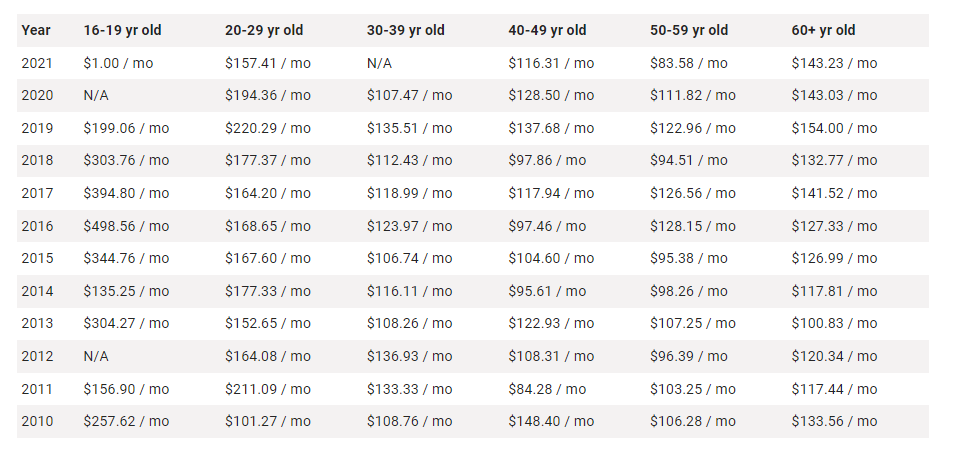 Why Does Toyota Avalon Insurance Costs Different From Other Toyota Models?
It is true that some cars can be a smart purchase due to their low down payments and lower purchase prices. Therefore, it is advised to do some research on the amount your car will cost you all through the year. When it is about Toyota Avalon, you will find that this car is substantially different from other models in the Toyota series.
There are various factors that make Toyota Avalon a great choice over other Toyota models. Avalon provides you with several reasons to be standing in the top list of the Toyota portfolio.
If we talk about the safety ratings for Toyota Avalon as compared to other similar cars, it is found that some safety features of Avalon not only help keep you safe, but are also helpful in saving money on car insurance.
Let's look at some of the reasons that make Avalon insurance rate different from other models in the Toyota portfolio.
Safety features are one of the most important reasons for this difference. These include the number of airbags, lane departure warning, anti-lock brakes, traction control, and others.
The differences in the safety ratings and crash test ratings of NHTSA (National Highways Traffic Safety Administration) and IIHS (Insurance Institute for Highway Safety)
The replacement or repair cost also varied from one model to another.
Another difference also lies in vehicle size. For example, a large SUV is suspected of having more property damage than a Smart car.
How ease theft can occur is also one difference between Avalon and other Toyota models. These include features such as electronic keys, anti-theft systems, etc.
All these differences make a great impact on the insurance rates of Toyota Avalon and other Toyota models.
Factors That Impact The Cost Of Toyota Avalon Car Insurance
The trim and model you choose for Toyota Avalon makes a significant difference in the total price you have to pay for car insurance coverage. Along with this, there are various factors that greatly impact the overall insurance rate of the car. These factors help in determining the premiums of Avalon and other models.
Age of the vehicle – The average insurance rate for Avalon is higher for new models. The car insurance rate for the 2018 Toyota Avalon is around $1,330; similarly, the car insurance rate for the 2010 Toyota Avalon costs around $1,080. For the newer model, it is higher than this price.
Driver age – The age of the driver is another factor that plays a significant role in determining the cat insurance rate for Toyota Avalon. If the driver is 20 years old, he will be asked to pay around $136 more every month than the car insurance rate for a 30 years old driver.
Driver location – Where a driver lives also brings a great impact on insurance rates for Avalon, such as a driver living in Los Angeles is charged around $190 per year more than a driver who lives in Houston.
Driving record – Your driving record is another factor that determines the car insurance Avalon rate. It is reported that teens and young drivers in their 20's are found to have more car insurance rates due to violations on their driving record.
Safety ratings – The car insurance rates of Toyota Avalon also depend on the safety ratings, such as certain features like small overlap front for both driver and passenger side, roof strength, and head restraints have got 'Good' ratings.
Crash test ratings – Crash test ratings are also one of the factors that are considered when determining the cost of Toyota Avalon premium rate. The ratings of all models may differ.
Safety features – If your Toyota Avalon has numerous safety features, you are more likely to ask for a lower insurance rate. Some of the Avalon safety features are airbags for driver, passenger, front head, rear head, front side, and rear side. Others include 4-wheel ABS, 4-wheel disc brakes, brake assist, child safety locks, traction control, lane-keeping assist, cross-traffic alert, and others.
Loss probability – The insurance loss ratio of Avalon differs between the types of coverage you have purchased. It is found that some types of insurance loss ratios are more for Avalon, while for others, it charges lower insurance rates.
How To Save On Toyota Avalon Auto Insurance?
There is no doubt that the insurance rates of Toyota Avalon are all set. But, there are few factors that can help you reduce this insurance rate. There are a number of ways that help you save money on your car insurance policy. You must be aware of them and must also ask insurance companies for the discounts you are eligible for.
Tell your insurance company about the number of drivers or uses for your car
You must avoid filing a claim for minor claims
Never always search for or choose the cheapest Avalon insurance policy
Get the Toyota Avalon that has cheaper repair costs
If you live in an area with less traffic, theft, and lower cost of living.
Car Insurance Cost For Toyota Avalon
When you buy a new or old Toyota Avalon, you may be wondering about the insurance cost of your car. The major common factors that determine the insurance rate you will have to pay for your Toyota Avalon include driver's age, location, driving record, and marital status.
The car insurance rate data is analyzed to calculate the average insurance rate that you have to pay depending on your age. Some insurers also looked for the insurance rate that top auto insurance companies are asking from drivers. This helps in getting the average premium you will be charged. The insurance rate for the 2021 Toyota Avalon ranges between $6 per year – $2,378 per year.
Remember, here we are talking about average insurance costs. The actual insurance rate may vary from one driver to another based on various factors.
Andy Walker is a freelance content writer who specializes in writing for insurance and finance related niches. He has years of experience in this field and has written extensively on a variety of topics. Andy's work is always highly polished and well-researched, ensuring that his clients are always happy with the results.