Monthly Payment, Start Saving Today!
Monthly Payment, Start Saving Today!
How Much Average Chevrolet Corvette Car Insurance Cost?
Last Updated on November 19, 2023 by
admin
The average cost of insurance for Chevrolet Corvette cars typically hovers around $4,783 annually. But you need to know that auto insurance rates greatly vary according to the driver's age and the average premium rate represents the annual cost of full coverage that is worked out for 30 year old drivers who drive the Chevrolet Corvette Stingray 2 LT convertible. So, for younger drivers below 20 years of age, the costs can be pretty high primarily because of their lack of experience behind the driving wheel. Besides, the exact corvette model to be insured can also affect the insurance rates.
New and latest Chevy Corvette models 2021 can be the most expensive to insure as compared to versions of the past years. And premiums charged could be the highest for drivers in the age group 17 to 20 years old. While insurance data for 2020 Chevrolet Corvette vehicles are not available, you can expect the premium to be slightly lower than the 2021 models. The market worth of Chevrolet Corvette cars is greatly influenced by the model and year of manufacturing and the type of trim and so, insurance rates may also get affected and newer models have high-end features.
Trim Chevrolet Corvette versions are highly expensive and as a result, the insurance rates provided could be significantly higher than they are for older versions. This is because if a new corvette car meets with an accident and requires replacement of some parts, insurer will have to pay more and so, to compensate for possible financial losses the premium will be high. The only silver lining in the cloud is that trim corvette versions have advanced safety features and these can be helpful in reducing insurance rates. To learn more about Chevy Corvette auto insurance rates online, keep reading on!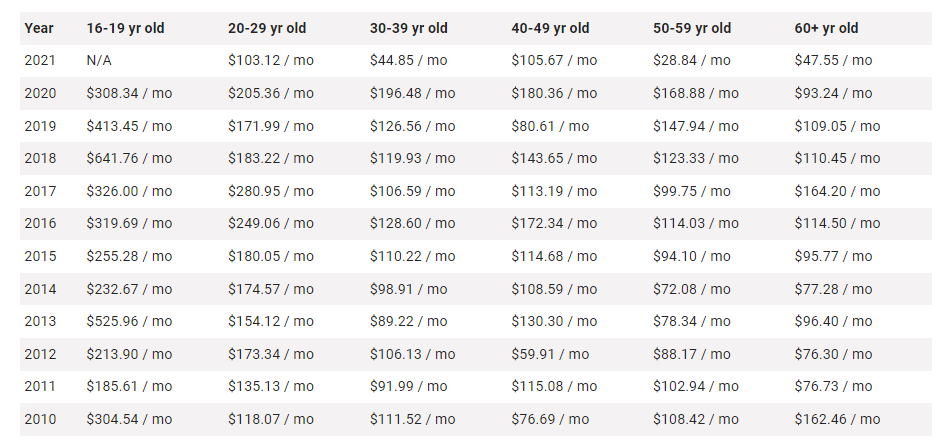 Can Safety Features Get You The Cheapest Corvette Insurance? Just Find Out
All Corvette models come standard with a variety of superior safety features. These make the cars safer to drive and help in reducing insurance premiums. Here is a list of some safety features in corvettes that you need to know:
Active handling control for enhanced traction and ensuring better stability of vehicle
All-speed traction control
Day-time running headlights
Front as well as side airbags for driver/fellow passengers
High-definition camera in the rear end
OnStar for keeping you connected and get help when required
Rear park assist
Teen drivers' setting that facilitates configuration of key fob required for promoting safer driving behavior and practices among very young drivers and even get report on how the teen is driving the corvette car.
List Of Factors That Can Have Great Impact Chevy Corvette Insurance Rates
There are several types of factors which influence insurance costs for Chevrolet corvette. Some of them are as mentioned below:
Driver's age – Age of a driver can have significant impact on auto insurance rates offered for Chevy corvette vehicles. Accordingly, corvette insurance 18 year old driver rates will be much higher than senior and more experienced drivers due to much greater coverage risks involved.
Age of the car – Older corvette models will cost less money to insure as compared to newer 2020 or 2021 versions. The following table will give you some idea.
Driver's residence – Your exact residential geographical location can greatly affect corvette vehicle insurance rates. In cities like New York, where crime rates are high, the premium rates will be higher than those in Seattle.
Driver's driving record – A driver's past driving history can have great bearing on Chevy corvette auto insurance rates. For example, corvette insurance cost 18 year old will be much higher than cost of a 25 year old driver as because of less driving experience, it is likely that teens have higher probability of meeting with accidents and filing claims.
Drivers' discounts – Insurers provide various kinds of discounts on premium for Chevrolet corvette insurance. These may include good student discount, special discount for safety features in car model, safe driver discount, low mileage discount, etc. Determine your chances of qualifying for a discounted insurance package today!
Here Are 5 Important Guidelines To Save Money On Corvette Car Insurance
It is possible to save money on even corvette insurance 17 year old or slightly higher aged driver cost by using few strategies as under:
Don't ignore the importance of legally required basic liability coverage which is possibly the cheapest.
Inquire about different types of premium discounts when exploring options.
If you are staying at college campus, also ask if you are eligible to get student away discount on premium.
You may be entitled to save money as a teen driver you are a parent and get your teen's name added your existing policy.
By paying your monthly credit card dues, car instalments and insurance payments regularly, it is possible that you get much lower insurance premium rates in future.
The Cost Of Corvette Car Insurance For 16 To 25 Year-Olds
Younger drivers often pay more to insure their cars, given their lack of driving experience. With lower metrics, they are seen as a riskier to insure.
The average annual cost of insurance for a Chevrolet Corvette is usually $5,482. An 18 year old teenage driver pays 3K more than an average 40-year-old driver.
To save money on car insurance, consider insuring your teen under your policy as an added driver. Teens generally save more by contracting their own car insurance.
| Age | Average Annual Rates |
| --- | --- |
| 16 | $7,028 |
| 17 | $6,226 |
| 18 | $5,482 |
| 19 | $3,926 |
| 20 | $3,504 |
| 21 | $2,774 |
| 22 | $2,555 |
| 23 | $2,338 |
| 24 | $2,195 |
| 25 | $1,991 |
| 40 | $1,680 |
Which Other Factors Are Likely To Affect Chevrolet Corvette Insurance Cost?
There may be some additional factors which might impact your ability to qualify for low sustainable Chevrolet Corvette auto insurance rates as are mentioned below.
Annual mileage – On an average, Americans drive between 10,000 to 15,000 miles every year. So, if you are going to drive more number of miles than this annual average then you can expect your Chevy corvette car insurance premium rates to be significantly higher than the average American driver.
Driving history – As compared to teen driver rates, corvette insurance 20 year old driver rates will be less as drivers belonging to this category may have established some driving record. But again, the premiums for 20 year old drivers will be much higher than senior and more experienced drivers. And if driving record of a driver is poor then he/she will be treated as high risk driver for which insurance rates are the highest.
Vehicle' value – The market worth of your Chevrolet Corvette can also play a vital role is deciding premium rates. Newer Corvette versions will be charged more for insurance than older models. Hence, if you buy an older Chevy Corvette model, you will have the chance to save some money.
Safety features – Corvette models usually come standard with advanced theft deterrent package, front curb view cameras, rear cross-traffic alert and side blind zone alert. But they are not rated highly for safety features by either National Highway Traffic and Safety Administration (NHTSA) or the Insurance Institute for Highway Safety (IIHS).
Where you live – Your residential geographical location is another major consideration which can retard your chances of qualifying for a lower premium rate. If you live in a neighbourhood which has high crime and theft rates then insurers will charge more for insurance of your Chevy Corvette car.
How Much Does It Cost To Insure A Corvette?
In the USA, the average cost of car insurance is between $771 and $1,602 per year.
Are Corvettes Expensive To Insure?
Yes, Corvettes are some of the most expensive cars one can insure. The cost of insurance and the driver's age will determine whether or not the owner will be paying a lot more than they would for other models.
Why Are Corvettes So Expensive To Insure?
Corvettes are expensive cars to insure because they're fast and sporty, so you can expect them to be involved in more accidents where someone is probably not at fault. When the insurance company assesses your risk for this type of car, it's likely that you'll pick up a higher premium or your insurance won't be as cheap.
How Much Is Insurance On A Corvette For A 19 Year Old?
On average, the cost to insure a Chevrolet Corvette for a 19 year old are $4,783 per year.
Andy Walker is a freelance content writer who specializes in writing for insurance and finance related niches. He has years of experience in this field and has written extensively on a variety of topics. Andy's work is always highly polished and well-researched, ensuring that his clients are always happy with the results.