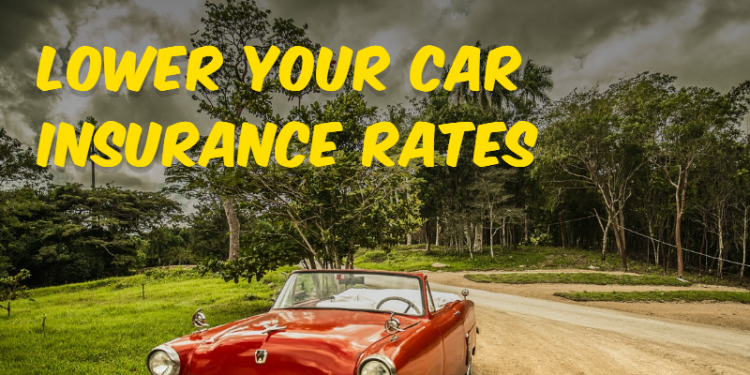 Last Updated on November 19, 2023 by
admin
Car insurance brings peace of mind while driving, and it's common to look for ways to make it cheaper. Luckily, you can use smart strategies to reduce your car insurance costs while still getting the coverage you require.
We will explore 13 ways to lower your car insurance rates. These tips will help you save money without compromising your coverage.
13 Ways to Lower Your Car Insurance Rate
Increase Your Deductible – You can easily lower your car insurance premium by increasing your deductible. The deductible is what you pay before your insurance starts covering your claim. If you choose a higher deductible, you'll have more risk but lower monthly payments. If you have an accident, remember that you'll have to pay a higher deductible. Make sure you have enough savings for this.
Check for Discounts – Insurance companies often provide a variety of discounts that you may not be aware of. Make sure to research the discounts your insurance company offers. This will help you take full advantage of saving opportunities.

Insurance companies offer various discounts on car insurance. These include going paperless and signing up for a new policy before your old one expires. You can get a discount by buying your policy online. Another way is to enroll in preferred payment options, such as automatic payments. Bundling your car insurance with your home insurance or multiple vehicles can also get you a discount. Additionally, participating in safe driving.

Don't miss out on possible discounts for things like parking in a garage or low mileage. This is especially important if you live in an area with a lot of thefts or don't drive very often.
Maintain a Good Driving Record – To lower your car insurance premium, you can maintain a good driving history. Insurance companies offer better rates to safe drivers. By driving responsibly, avoiding speeding and accidents, you can protect yourself from expensive tickets and violations. This will also demonstrate to insurance providers that you are a safe driver, reducing your risk level.

Insurers may provide extra discounts for having a history without claims or violations. To be a responsible driver is important. It not only keeps you safe but also saves you money.
Compare Quotes – The insurance market is competitive. Different companies can offer varying rates for similar coverage. To ensure you're getting the best deal, take the time to gather multiple quotes. You can do this easily online or by reaching out to local insurance agents. While affordability is important, make sure the coverage provided meets your specific needs. Cheaper insurance may not fully cover you if there's an accident or other incidents. It's important to investigate further if a quote seems too good to be true. Make sure you're not sacrificing important coverage for a lower premium.
Improve Your Credit Score – Your credit score may affect your risk assessment by insurance companies in certain states. A higher credit score is often linked to responsible financial behavior. Some car insurers think this shows responsible driving habits.

To start improving your credit score, make it a habit to pay your bills on time every month. You can also focus on lowering your credit utilization rate. This rate measures how much you spend in relation to your total credit limit. Regularly review your credit report to make sure it's accurate. If you find any incorrect information, take steps to dispute it.
Consider Vehicle Features – The car you drive affects your insurance rate. Some cars cost more to insure because of factors like repair costs and safety. When shopping for a new car, make sure to think about the insurance cost for the specific model you want. Interestingly, the cheapest vehicles are not always the most affordable to insure.

High-end sports cars might come with hefty insurance premiums compared to safety-first minivans. Expensive car repairs can lead to higher insurance rates. Upgraded trim, advanced audio systems, and modern technology can affect the cost of your insurance.
Save with Teen Drivers – Insurance companies do provide discounts for teenagers who have good grades, are in college, or are open to a higher deductible. Adding a teenage driver to your policy can definitely raise your insurance expenses. However, there are several ways to prevent these costs from skyrocketing.

Talk to your teen about responsible driving habits and why it's important to keep a clean driving record. By doing this, you not only make sure they stay safe while driving but also may lower your insurance costs.
Low Mileage Driving Program – If you work from home, use public transportation, or have a short daily drive, you may qualify for discounts on your insurance. Some insurance companies have programs that reward drivers who drive less. This is because driving fewer miles is seen as less risky. Make sure to ask your insurance company about these programs. They can help lower your premiums based on your driving habits.
Review Your Current Policy – Make sure you review your car insurance regularly to make sure it still fits your changing needs. As your vehicle ages, consider adjusting coverage levels accordingly. As your car gets older, the cost to replace it after an accident goes down.

You could reduce the costs of car repairs, like comprehensive and collision coverage. If you've paid off loans or fully own your vehicle, some coverage options may not be needed anymore. If you lease or finance your car, you usually need to have specific comprehensive and collision coverage.

If you own your car, you might be able to reduce or exclude these coverages based on your personal situation. As you go through life, you may qualify for more discounts to consider. Make sure your insurance policy reflects any changes if you're 25, married, or bought a home. These factors can all contribute to potential savings on your premium.
Bundle Policies – Combining your home and auto insurance with one provider is a simple and effective way to reduce your insurance cost. This approach works regardless of whether you own or rent your home. When you bundle your policies, you not only get a discount but also make your finances easier to manage.

Managing just one account with a single login means you have fewer payments to keep track of. This makes your insurance experience more convenient overall. You might want to contact your insurance company to find out if you can save money by combining your home and auto insurance.
Participate in a safe driving program – Do you want to become a better driver and demonstrate responsible habits? Consider joining a safe driving program. It can greatly impact your driving record, regardless of your past experiences. By taking this proactive step, you can showcase your commitment to safe driving.
Take a Defensive Driving Course – These courses are beneficial for everyone, not just new drivers. By taking a defensive driving course, you can improve your driving skills and show that you prioritize safe driving.

High school students can enroll in courses that teach defensive driving techniques and traffic laws. These courses also provide guidance on handling challenging driving situations. By completing a defensive driving course, students can improve their driving habits and potentially save money on car insurance.
Explore payment options – If you're open to flexible payment methods, you can save more on your car insurance premium. Take advantage of the payment method discount by linking your bank account. It's a convenient way to make sure you pay on time and get a discount on your premium.

Consider going paperless to contribute to the environment and save on your policy. Choosing electronic account statements and communication reduces clutter and benefits the environment. Plus, you'll enjoy a discount on your policy, making it a win-win situation.
Frequently Asked Questions
Can I Lower My Rates By Just Choosing The Cheapest Insurance Option?
Affordable coverage is important, but it must also meet your needs. If you choose the cheapest insurance, you may not have enough coverage if there's an accident. It's important to balance the cost and coverage to make sure you have enough protection.
How Can My Credit Score Affect My Insurance Rates?
Some states use your credit score in risk assessments done by insurance companies. A higher credit score is often linked to responsible financial behavior. Some insurers think this reflects responsible driving habits. Improving your credit score can help you get lower insurance rates. It's important to handle your credit responsibly.
What's The Best Way To Find Available Discounts?
Researching your insurance company's discounts can help you find ways to save money. Review your insurer's discounts and ask your agent for help if needed. Insurance companies provide various discounts. It's important to find the ones that apply to you to save more money.
How Often Should I Review My Car Insurance Policy?
It's important to check your car insurance policy every year or when big changes happen in your life. When you get married, buy a home, or make changes to your vehicle or driving habits, your insurance needs may change. Review your policy regularly to make sure it matches your current situation. This can help you find ways to lower your premium.
Every driver has a unique situation. It's important to customize these methods to fit your own needs and circumstances.
As we have seen, to lower your car insurance cost, you can take several steps. First, optimize your deductible and explore available discounts. Second, maintain a good driving record and compare quotes. Third, work on improving your credit score and consider vehicle features. Fourth, manage teen drivers and explore low mileage programs. Lastly, review your current policy and bundle policies.
Finding the right balance between the cost and coverage of your insurance is important. It helps you get the best value for your money. To save money on car insurance and feel confident on the road, keep these approaches in mind.
---