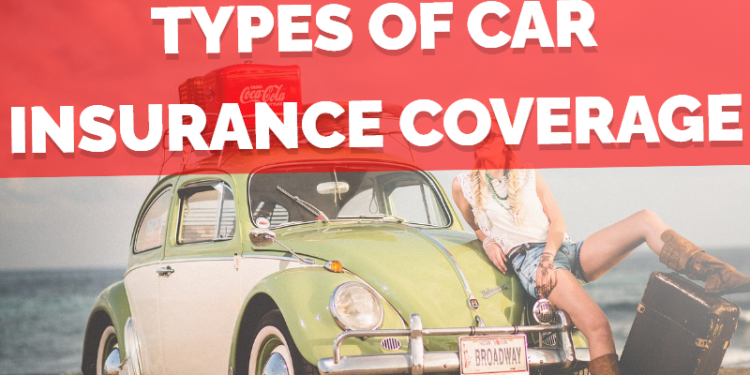 Last Updated on November 19, 2023 by
admin
Car insurance is important for responsible drivers. Driving is exciting, but it has risks. Accidents can happen unexpectedly, and without proper coverage, you may face financial difficulties. That's why understanding the different types of car insurance is crucial. It can give you peace of mind and protect you from financial disaster.
This blog post covers car insurance coverage. It explains the nine types every driver should know. Whether you're experienced or a new driver, this guide will help you make informed decisions about your auto insurance policy.
We'll explain collision coverage, liability protection, and more. Each type has its advantages and is important.
9 Types Of Car Insurance Coverage
Let's check out some of the common types of car insurance coverage:
Collision Coverage – Collision coverage is a fundamental type of car insurance that protects you from the expenses incurred due to accidents involving other vehicles or stationary objects. Accidents can happen to even the most careful drivers, and this coverage ensures that your car's repair costs are covered up to its actual cash value, regardless of who is at fault.

Whether it's a minor fender bender or a more severe collision, you can have peace of mind knowing that you won't have to bear the financial burden of repairing your vehicle.

Accidents with other cars: If you get into an accident with another vehicle, collision coverage comes to your rescue by paying for your car's repair costs, helping you get back on the road quickly.
Hit stationary objects: Sometimes, accidents happen when you accidentally hit a stationary object like a fence or garage. In such cases, collision coverage covers the cost of repairing the damage.
Repair costs exceed value: If your car sustains significant damage, the repair costs might exceed the car's current fair market value. In such cases, the insurer will declare it a total loss, but you'll receive a check for the car's actual cash value, allowing you to use the money towards purchasing a new vehicle.

Liability Coverage – Liability coverage is very important in car insurance. It helps protect you financially if you cause an accident that hurts someone or damages their property. You have to have it in every state except New Hampshire and Virginia. It's a good idea to get more coverage than your state requires to make sure you're fully protected if there's a bad accident.

If you don't have liability coverage, you might have to pay for medical bills and repairs yourself. You could also get fines and penalties for driving without insurance. Remember, the minimum requirements in your state might not be enough if there's a big accident. Choosing higher limits gives you more protection.
Uninsured and Underinsured Motorist Protection – Uninsured and underinsured motorist (UM/UIM) coverage helps pay for expenses if you're in an accident. It applies when you're hit by a driver without insurance or whose insurance doesn't cover all your costs. Having UM/UIM coverage adds protection, so you're not left financially vulnerable because of someone else's negligence.

Some drivers don't follow the law and drive without insurance. Having uninsured and underinsured motorist protection in your car insurance policy is important. It covers you if you have an accident with a driver who doesn't have insurance or doesn't have enough coverage to pay for your expenses.
Personal Injury Protection (PIP) Coverage – In some states, there is a type of car insurance called Personal Injury Protection coverage or PIP. It gives important benefits if you have an accident. This coverage might be required in certain states, but not in others. Make sure to find out what is required in your state to follow the rules.

Personal injury protection coverage helps pay for medical expenses, lost wages, and funeral costs if you and your passengers get hurt in an accident. It makes sure you and your loved ones can get the medical care you need and helps with money while you recover.


Comprehensive Coverage – Comprehensive coverage is optional in all states, but if you have a loan or lease on your car, your lender or leaseholder will likely require you to have this coverage. Considering the various risks your vehicle may face beyond accidents, comprehensive coverage can provide significant peace of mind.

If your car is damaged in a hailstorm, stolen, or vandalized, comprehensive coverage ensures you won't have to pay for the repairs or a new car on your own.
Medical Payments Coverage – Medical payments coverage, also called MedPay, is extra insurance that can help with medical bills or funeral expenses if you have an accident. It's optional, so you can choose to add it to your car insurance based on what you need and can afford.

Medical payments coverage and personal injury protection (PIP) coverage have a key difference. MedPay usually doesn't cover lost wages or non-medical expenses. However, it still provides protection if you're injured in someone else's car or as a pedestrian in an accident.
GAP Coverage – GAP coverage is a special insurance that helps protect people who lease or finance their vehicles. If your car gets totaled in an accident and you have a car loan or lease, GAP coverage fills the gap between the car's worth and what you still owe.

When you buy a new car, its value starts going down as soon as you drive it away. If your car gets stolen or damaged in an accident, your insurance usually only pays you the amount the car is worth, which might be less than what you still owe.
New Car Replacement Coverage – New car replacement coverage is beneficial for new car owners. If your car is deemed a total loss in an accident, the insurance company typically pays you the market value. However, with new car replacement coverage, the insurer will cover the cost of a brand-new replacement vehicle. This means you can get a similar car without the financial burden.

New car replacement coverage is important to consider. Usually, it's only available for a short time, often up to a year after buying the car. To use this coverage, make sure to go over the policy details with your insurance provider.
Full Coverage – Full coverage protects your vehicle and finances, and it also provides security for you and others on the road. It includes liability coverage, which safeguards you from lawsuits if you cause an accident, and property damage coverage, which pays for damages to someone else's property.

Having full coverage insurance is important. It includes collision coverage that pays for your car repairs after an accident, and comprehensive coverage that protects against theft, vandalism, and natural disasters. However, it's crucial to review your policy and talk to your insurance agent to make sure you have the right coverage for your situation.
Frequently Asked Questions
Do I Need Collision Coverage If My Car Is Old?
While collision coverage is optional, it can still be beneficial even if your car is old. If the repair costs after an accident exceed the car's value, collision coverage can provide financial support.
Is Full Coverage Insurance Expensive?
Full coverage insurance is usually pricier than basic liability coverage because it provides more extensive protection. The cost, though, can vary based on factors like your driving history, age, and the type of vehicle you have.
Is It Worth Having New Car Replacement Coverage?
New car replacement coverage is valuable for owners of brand-new vehicles. It gives you peace of mind because you won't have a big financial loss if your new car gets totaled in the first year.
Is Comprehensive Coverage Necessary If I Have An Older Vehicle?
Comprehensive coverage can be helpful for older vehicles, especially if they are valuable or at risk. Although older cars may not be worth as much, comprehensive coverage can safeguard against theft, vandalism, and natural disasters. When deciding if comprehensive coverage is appropriate for your older car, think about its value, your tolerance for risk, and potential repair expenses.
What Factors Influence The Cost Of Car Insurance?
Remember to assess your specific requirements, consider the value of your vehicle, and consult with insurance professionals to ensure you have the right coverage in place.
Car insurance coverage is an essential investment that can safeguard you from unforeseen financial burdens resulting from accidents. By understanding the various types of coverage available, you can make informed decisions about the best insurance policy to suit your needs and provide you with the protection you deserve on the road.
Remember to assess your specific requirements, consider the value of your vehicle, and consult with insurance professionals to ensure you have the right coverage in place.
---